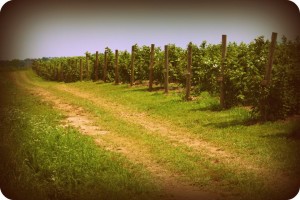 Ruffwing Farms was founded in 2008 and is located at 2942 Elder Rd NE. Pleasant Township, in Lancaster and encompasses 52 acres of gently sloping land.
The farm started with U-pick black raspberries, sweet corn and pumpkins with asparagus, blackberries and Bobwhite quail added over time.
In 2012, the farm expanded facilities to accommodate Polypay sheep, growing the flock to more than 80 ewes, mainly as a market lamb operation.
In 2014, John made a career change – from owner of an engineering firm to full-time farmer. This led to the dairy and creamery expansion. In spring 2016, John and Emma traveled to Wisconsin to pick up their initial flock of 24 East Friesian sheep.
Our current dairy flock consists of 30 East Friesian ewes and ram.  Cheese is made several times a week.
We are proud to offer the highest quality local products – in our crops and in our creamery. We are excited about the expansion of the dairy products, but our favorite part of what we do is the end of June to mid-July, when hundreds of our customers, who we have come to call friends, visit us to pick our delicious black raspberries. It's like a two or three week-long family reunion. Our simple promise to you is that we will continue to provide fresh, quality produce and dairy products that we would (and do!) put on our own table.